Cutez™ - 7 in 1 Multifunction Vegetable Cutter Food Slicer Vegetable Fruit Peeler Chopper Cutter
Grab your Discounted Multifunction Vegetable Cutter while the Store LAUNCH DISCOUNT is on!
Multifunction Vegetable Chopper : 7 changeable blades let you shred, chop, dice and slice veggie and fruit with ease. You can cut the food without the Mess of a knife and cutting board thanks to the 1.7 L collection tray, you can storage your chopped food until you are ready to begin cooking.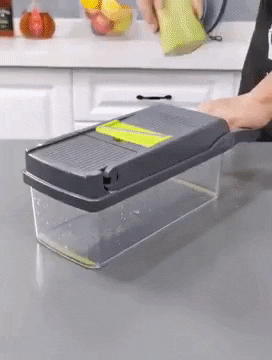 The original Cutez™  set is available only on TopShopMix online store. We guarantee for the quality of the set but
if you see the same product somewhere else, we can't guarantee the same quality. Be smart and buy from us!
 Practical and innovative - whether it's making decorations, turning your dinner platter into food, preparing the most delicious salads, making your guests amazing, making healthy raw pasta, or providing your family with the help of family members Healthy fresh potato chips.
The salad chopper set contain 2 dicing blades, 1 slicing blade, 2 julienne blades, 1 mashing blade, 1 potato lattice blade, 1 egg separator, 1 drain basket, 1 vegetable peeler and 1 cleaning brush. You can cut potato, cucumber, carrot, onion, ginger, garlic, cheese, fruits and more.
he multi-function food cutters are made of 100% BPA-free ABS meets international standards, non-toxic, odorless. The food-grade stainless steel sharp-edged blades have excellent corrosion & fracture resistance, using worry free.
Guarantee: If you are not 100% satisfied with our production, we will provide you with a 30 day refund or replacement. If you have any questions, please contact us and we will resolve it within 24 hours

This food chopper also included a lemon squeezer that can make juice; a collecting container that has enough space to hold food fallen without the mess of a knife and cutting board
Shipping & Returns Policy
Our products are shipped within 48-72 business hours and delivered within about 3-9 business days.